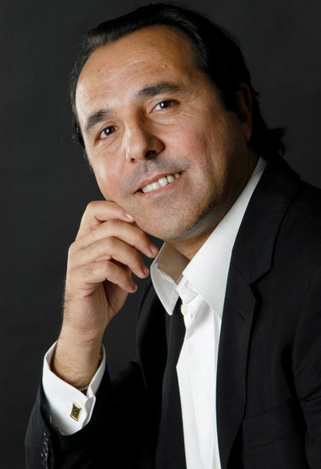 | | |
| --- | --- |
| | |

...Caruso, Granada, O Sole Mio, Santa Lucia, Marina, Volare, Catari, Funiculi Funicula… The enchantment and emotion that emanate from this brilliant Italian vocalist are hard to describe, yet so easy to sense! From classical Opera to Napolitan and Sicilian arias, Tino Favazza has the perfect ingredients to fuel his vocal capacities and charm you to the highest degree.

Cateno (Tino) Favazza was born in 1958 in Gaggi, Sicily, a small village of the Valle Alkantara (Flowers Valley) near Taormina, a historical center of Sicilian music and world famous destination for tourism and archeology.

Maestro Tenor Enrico Facini, expert opera singer, has continuously and personally followed Tino's artistic education since he was six years old. From childhood, Tino participated in many musical events (festivities, ceremonies, church concerts theatres, recordings, Sicilian television shows...), including several editions of the Sicilian Song Festival.

In 2002, Tino was awarded the Giuseppe Di Stefano award of "Best Sicilian Tenor", which he received from Di Stefano personally. Over the last ten years, Tino Favazza has toured Europe several times (Germany, Austria, Slovenia, Spain, France, Belgium, Serbia). He collaborated with a number of international artists in national and international lyric, classic and ethnic music concerts. Particularly important were his appearances in Vienna, Graz, Liubljana and at the Kolarac theatre of Belgrade.

Just as his audiences constantly confirm the beauty of his voice, described as "Voice of the Sun", "Divine Voice"…, the artists with whom he collaborates recognize the tenor's qualities. An "antique voice", they say, "one that is very rarely found nowadays". A voice extraordinary for its ductility, nature, expressivity and color.

In February 2001, he participated as "Best Voice" in the Brussels International Festival, after which he was contacted by the theatre of the Russian House (Ruski Dom) in Belgrade, Serbia, where he performed the most beautiful classic and lyric Italian melodies in celebration of the venue's eightieth anniversary. He was the first Italian tenor ever to sing in this prestigious theatre. In the same year, he was invited to participate as guest of honor in Byelorussia's International Music Festival, the "Slabenski Vitevsk Bazaar".

In 2004, he participated in the "Mia Martini" Festival where he received the prize for "Best interpretation, expression and style", as he presented an unknown piece composed by the famous author and composer Sanja Ilic, leader of the Balkanica band.

For several years, he has been collaborating with the violinist Snezana Tintor and other successful Balkan musicians. In 2006, he took his project "Canzoni dell'Amore e del Sole" on a Balkan tour.

In 2007, Tino Favazza met Michel Elefteriades who proposed a collaboration on the exciting fusion of Bel Canto and Oriental music. They have been rehearsing the project for months and an album is currently underway. Alongside, Tino keeps touring Europe and the Middle East with yet many more performances to come.