Rachid TAHA




[ Location: Music Hall ]




Music Hall
Date: June 1st, 2005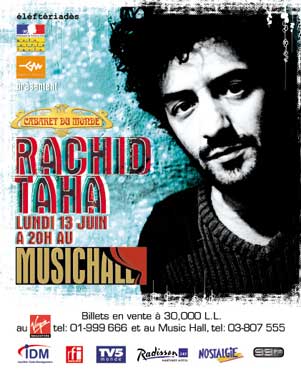 Français d'origine algérienne, Rachid Taha s'est très vite attribué les rythmes orientaux pour crier sa révolte. Il obtient son premier grand succès avec "un, deux, trois soleil", un projet mené avec les chanteurs Khaled et Faudel en 1998. Parallèlement, il tourne en solo notamment au Maghreb et au Proche-Orient, atteignant alors une stature qui dépasse largement les frontières européennes. Et si Rachid Taha montre parfois un profil provocateur, élevant la voix contre l'intolérance et le racisme, il fait désormais partie intégrante de la culture métissée française. Il en est même un pionnier.
Rachid Taha is with no doubt a pioneer of French world music. He strongly expresses through his songs his opinion against intolerance and racism. His last album Tekitoi was hailed by music critics.