Michel ELEFTERIADES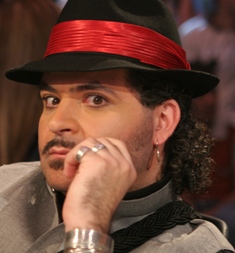 a.k.a. H.I.H. Michel I of Nowheristan
. Born in 1970 in Beirut, Lebanon, from Byzantine Greek origins. Great grandnephew of Saint Chrysostomos Kalafates, Metropolitan of Smyrna, assassinated in 1922
· Lived in different countries and speaks more than six languages
· Political activist since the age of 15 in Beirut during the Lebanese civil war
· Leader from 1991 to 1994 of the M.U.R. (United Movements of Resistance) a clandestine liberation armed group. Escaped two assassination attempts
· Political exile in France and Cuba from 1994 till 1997
· Painter and holder of a diploma in fine arts
· Author of poems and of two novels, one of which was banned in the Arab world
· Author and composer of more than 120 songs
· Music producer and arranger, his creations count among the Arab world's most successful musical experiments of the last ten years:
- Hanine Y Son Cubano
- Wadih El Safi in duo with Jose Fernandez
- Demis Roussos & the Oriental Roots Orchestra
- Tony Hanna & the Yugoslavian Gipsy Brass Band
· Participated as a speaker on different topics in a number of seminars and symposiums (World Cultural Forum, World Music Exhibition, MECCAD, Mercado Cultural of Salvador do Bahia, Charles University in Prague…)
· Founder in 1999 of the "Mediterraneo Byblos International Festival" and its Director from 1999 to 2003
· Collaborated with the Middle East's leading festivals
· Wrote, composed and directed in 2004 "The Journey of Four Songs", a musical for the most prestigious festival in the Arab world, the "Baalbeck International Festival"
· Director of documentaries and video-clips
· Founder and owner of Beirut's "Music Hall", an 800-seat theatre venue specializing in cultural showbiz
· Founder and co-owner of "ELEF Records", a "WARNER Music" label that already produced over 15 albums:
- Tony Hanna & the Yugoslavian Gipsy Brass Band
- Tony Hanna & the National Orchestra of Nowheristan
- Mounir El Khawli
- Hanine Y Son Cubano – Arabo-Cuban and 10908*
- Jose Fernandez – Makhlouta
- Jose Fernandez & Wadih El Safi
- Tania Saleh
- The Chehade Brothers – A Bridge Over the Mediterranean
- Jose Gálvez & the National Orchestra of Nowheristan
- Aleph – Le piano de l'orient
- Lautaris
- Nahawand
- Michel Elefteriades – l'Empereur chante
· At the age of 33, he pulled the bases of a new nation he named Nowheristan. The ceremony of proclamation of the nation of Nowheristan received the United Nations' support by the presence of UN Secretary General's personal representative and the Lebanese Minister of Culture. Numerous Arab intellectuals have joined the concept of Nowheristan and thousands of candidates from around the world have already requested applications for citizenship. H.I.H. is dedicating his time, his talent, his wealth… to promote the great Empire as an alternative to the political, ideological and economical problems of the world today.